Accessible newspapers over the Internet
Volunteers first manually read in and recorded Jakobstads Tidning as an accessible newspaper on cassette in 1982, at the same time as many other newspapers directed at Swedish-speaking Finns were also being manually recorded.
Even up until 2003, over 30 volunteers continued to manually record Jakobstads Tidning on cassette, but when postage costs for distributing the cassettes to subscribers became too high it was determined that a new system was needed.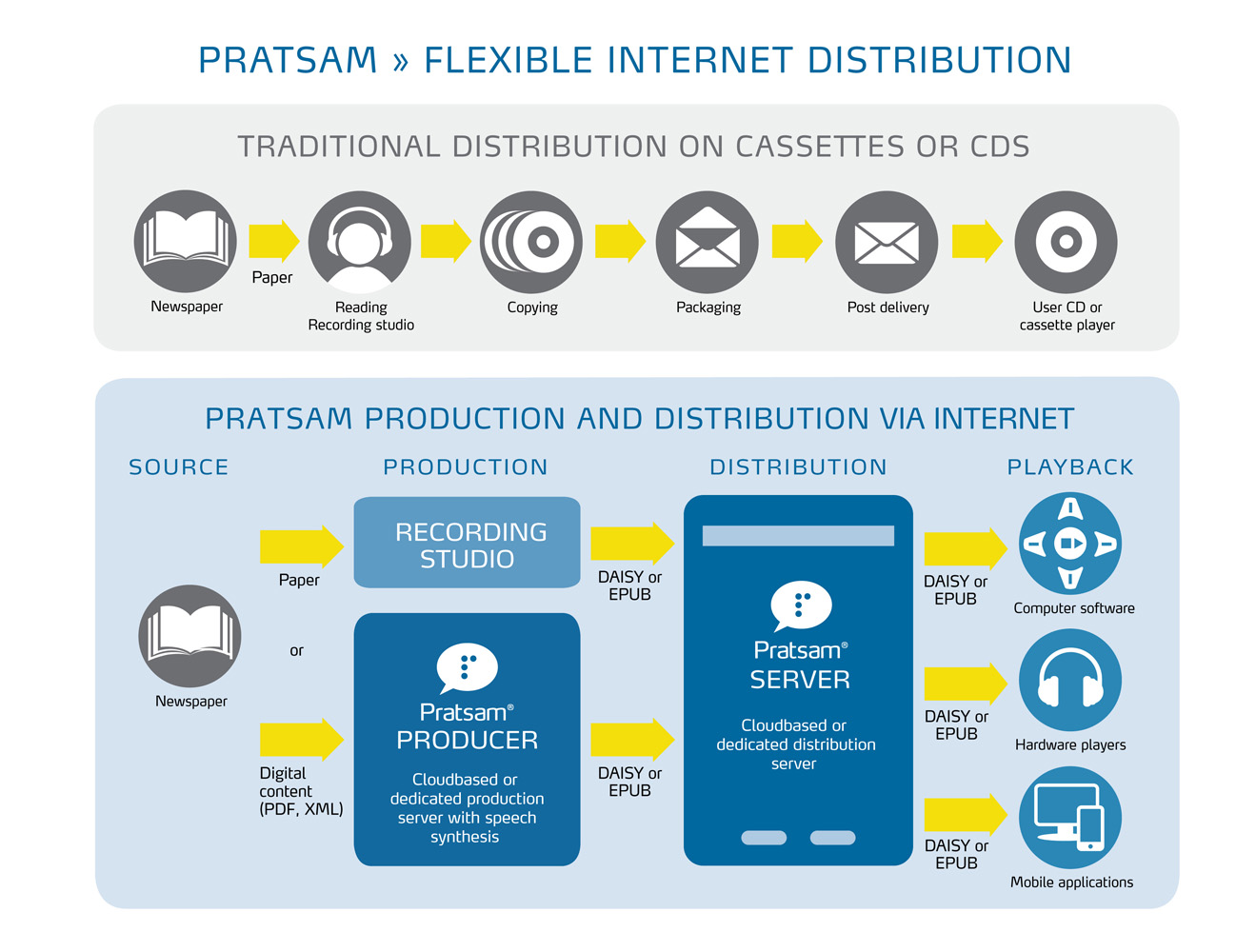 View the graphics in more detail by clicking here
From cassette to the Internet
By 2002, broadband Internet had become available to a large portion of those living in the distribution area for Jakobstads Tidning. Finland's Slot Machine Association (RAY) provided funding for a pilot project whereby a switch from the distribution of the accessible newspaper version of Jakobstads Tidning was made from cassette to the Internet.
Under the auspices of this pilot project, run by Norra Österbottens svenska synskadade rf (NÖSS) and several technology companies in Jakobstad, the first version of the Pratsam system was developed.
A customized player
During development it was important that, whatever the new playback method, it would be as easy to use as a cassette player. Accordingly, a customized playback device for use with accessible newspapers and including an easy-to-use control panel was developed.
The accessible newspapers were recorded on a customized recording device and uploaded to a web server, to which the player automatically connected when turned on.
The player's customized control panel had large, tactile buttons for use when navigating the accessible newspaper, and it was also possible to control the speed at which the newspaper was read.
A successful system
In 2004 the new distribution system was launched and 62 subscribers were given the chance to make the switch to the new system, called the Pratsam Box. The new system was an immediate success.
In 2005 Hufvudstadsbladet, the most widely distributed Swedish-language newspaper in Finland, together with Huvudstadsregionens taltidningsförening (HTF), implemented the system.
Between 2007-2008 all of the remaining eight Swedish-language newspapers in Finland also implemented the system, through an initiative taken by the Federation of Swedish Speaking Visually Impaired in Finland (FSVIF). Up until 2017, over 300 subscribers received their daily newspaper via the Pratsam Box system.
During 2012-2014, the production of accessible newspapers continued to evolve and production now occurs through the use of speech synthesis.
You can read more about this at the page describing the solution used by The Association of Swedish Talking Newspapers in Finland.